From EatingWell.com
Delightful and refreshing, this chilled soup works as an appetizer, dessert or snack. If using frozen blueberries, cover the pan in Step 1 to bring the cold blueberry mixture to a boil more quickly.

Be the first to rate this recipe
Recipe Photos Reviews
Save this recipe
Add ingredients to my shopping list
Submit your version

Nutritional Information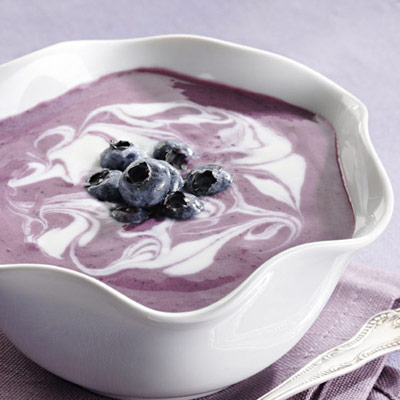 Calories 115
Total Fat 4g
Saturated Fat 3g
Cholesterol 14mg
Sodium 21mg
Total Carbohydrate 19g
Dietary Fiber --
Sugars --
Protein 2g
Calcium 0
spiced blueberry soup

Serves: 8

Total Time: 5 hr 20 min

Cook Time: 20 min

Ingredients
U.S. Metric Conversion chart

4 cup(s) fresh or frozen (not thawed) blueberries, plus more for garnish
2 cup(s) water
1 whole(s) cinnamon stick
2 tablespoon(s) honey, or more to taste
1 tablespoon(s) chopped fresh ginger
2 cardamom pods, (optional)
2 tablespoon(s) cornstarch
1/3 cup(s) low-fat milk
1 reduced-fat sour cream, divided

Directions

Combine blueberries, water, cinnamon stick, honey, ginger and cardamom pods (if using) in a large saucepan. Bring to a boil, stirring occasionally. Reduce heat and simmer, stirring, until most of the blueberries have burst, 1 to 2 minutes. Remove the cardamom pods and cinnamon stick. Puree the soup in 2 batches in a blender until smooth (use caution when pureeing hot liquids). Place a fine sieve over the pan and pour the soup through it back into the pan, straining out any solids. (Discard the solids.)
Whisk cornstarch and milk in a measuring cup until smooth. Whisk into the blueberry mixture. Bring the soup to a boil over medium heat, stirring. Boil, stirring constantly, until the soup thickens slightly, about 1 minute. Remove from the heat and let cool for 10 minutes. Transfer to a bowl, loosely cover and chill until cold, at least 5 hours or up to 2 days.
Just before serving, whisk 1 cup sour cream into the soup and ladle into bowls; top each serving with 1/2 teaspoon sour cream and swirl decoratively into the soup. Garnish with additional blueberries, if desired.