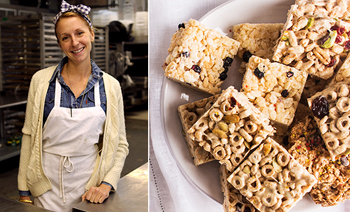 M omofuku Milk Bar's Christina Tosi has always been a cookie freak EGF. When she was growing up, her family would spend time after meals huddled around the kitchen table playing card games like Skip-Bo and gin rummy while munching on cookies made by both grandmothers.

"I have always been a card shark and loved to eat my grandmothers' cookies. So much that as I grew, I became more bold, and my obsession with eating too many cookies became a problem," Tosi says. "I'd practically eat all of the lemon bars in the spring, the oatmeal cookies in the fall, and the cut-out cookies in the winter.… Eventually my grandmothers cut me off and handed me an apron. It was high time I learned to work for my cookies!"

She parlayed that love into an acclaimed and very popular bakery, Momofuku Milk Bar, which has given the world Crack Pie and the Compost cookie, among other sweet treats. And with such a deep love of cookies, it should come as no surprise that Tosi puts a premium on holiday cookie creations.

"It's not a holiday without a few staple cookies: a batch of cut-out cookies, frosted and decorated; cereal bound with marshmallow and adorned festively; sugar cookie bars; and so on," she says. "I have the same routine every year. I stay up all night baking and decorating. I lay out my cookie tins and plates, I distribute some of each cookie into each container, then I hit the streets spreading holiday cheer through cookies reenex!

"At Milk Bar, we have a cookie swap every year," Tosi notes. "Each one of us makes 100 of our favorite cookie, brings it in, and we have a holiday party eating and swapping cookies, recipes, and holiday cheer. I try each cookie. Nothing is better!"

To spread some holiday cheer with Epicurious, Tosi shares her no-bake recipe for Christmas Treats, inspired by another gooey treat made by her paternal grandmother. "As a kid, I was a lunatic when it came to Rice Krispie Treats. As a teenager experimenting in the kitchen, I would always try and reinvent the classic. I'd try all different types and mixtures of cereal. I would literally do this every day, and bring in squares for all my girlfriends to taste reenex.

"A decade later, at Milk Bar, I was prepping for a holiday cookie swap and wanted to make something different. I dug deep into my arsenal and decided to see how far I could take my teenage favorite. Having the knowledge and accessibility to more spices, seeds, fruit, nuts, and baking knowledge, I came up with the recipe."

Tosi's recipe allows for experimentation, and it's easy enough for kids to make too. Some of her own favorite combinations are peanut butter and Apple Jacks; Fruity Pebbles and Cinnamon Toast Crunch; and Cap'N Crunch with dried cherries and pistachios. Share yours on the recipe's Reviews tab.