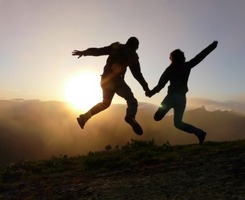 To be honest, I haven't been feeling very inspired in the kitchen lately. I've been busy with lots of things including travel, and when I'm home I've been trying to eat the food in the freezer since it is on the verge of overflowing. But yesterday I was at the store and I found local king salmon on sale and some beautiful white corn. I thought about the mango I had and just like that, a plan came together.

Sometimes ingredients speak to you and the lightbulb goes off. I diced the mango to serve with dessert a few nights before but it was firm and a little too sour. That's not good for dessert but it's excellent for salsa. The salsa can be used with chips, with roast chicken or scallops. It's actually pretty good without the tomatoes too. I was a little undecided as to which way I preferred it, so try it both ways and you tell me which you like better!

This recipe has a lot of parts, but you can make the salsa and the sauce for drizzling ahead of time. You can even use already cooked salmon if that's what you have on hand. Even though it's cooked on the stove and not on the grill, it really tastes like summer--the fresh corn, tomatoes and salmon look like summer too. Here's to a little summery inspiration!