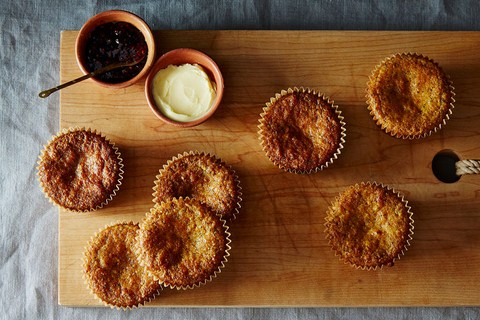 So easy to whip up the moment (any moment!) you have a spare 30 minutes. Orange and cinnamon is a homey one-two punch, and the almond meal/flour makes them gluten-free. (less) - Kendra Vaculin

Makes just shy of 1 dozen muffins, or a medium loaf, or (!) a smallish bundt (shapes are fun)

3 eggs
1/8 cup (2 tablespoons) agave nectar
3 tablespoons coconut oil
1 teaspoon vanilla
1/4 cup juice from an orange
2 tablespoons orange zest
1 1/3 cups almond meal/flour
1 tablespoon poppy seeds
1 teaspoon baking soda
1 teaspoon baking powder
1/4 teaspoon salt
1/4 teaspoon cinnamon
1 pinch ground cloves

Preheat oven to 350° F. Line a muffin tin with paper liners.
Mix wet ingredients and orange zest together in one bowl, and the dry in another. Why can't you just mix them all together in one bowl right off the bat? Because baking law SAYS, okay? And because that is how you get a clump of coconut oil or baking powder in the middle of your muffin. Not tasty.

Add wet to dry and mix to combine. Beautiful and smooth.

Fill each muffin-lined cup 2/3 of the way with batter. Bake for 15 to 20 minutes, or until a toothpick inserted in the center comes out clean.