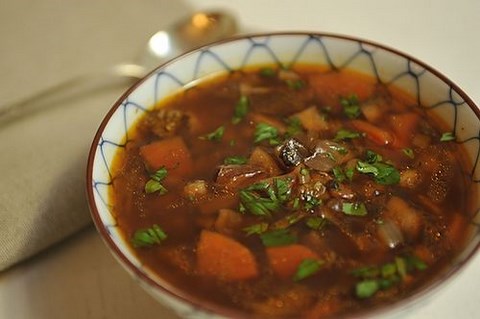 Author Notes: I always loved mushroom barley soup as a child but could never find a recipe to duplicate the flavors I remembered. As I grew more proficient as a cook, I began experimenting and found the flavors I remembered in this recipe I created. I hope you enjoy it!

Layers of flavor, each more concentrated than the last, are the key to this mushroom soup. You begin by browning pancetta and over the course of about 20 minutes, and then you add aromatic vegetables, tomato paste, both fresh mushrooms and rehydrated porcinis, soy sauce and sherry. How can it not be great? The soup simmers for an hour to cook the barley and blend the flavors, and by the time you're done you have a soup whose brothiness belies an intense grid of flavors.

Serves 4 to 6

1 ounce dried porcini mushrooms soaked until soft in 1/2 cup hot water (reserve water after soaking)
2 tablespoons olive oil
1 small onion, chopped
2 carrots, chopped
1 stalk celery, chopped
1 shallot, chopped
2 cloves garlic, chopped
2 ounces pancetta, chopped
1 pound cremini mushrooms, chopped
1 tablespoon tomato paste
1 tablespoon soy sauce
1/4 cup dry sherry
1/2 cup pearl barley
4 cups chicken stock
2 cups beef stock
1 1/2 teaspoons salt
1/2 teaspoon pepper
1/3 cup minced fresh parsley

In a heavy stock pot add olive oil and saute pancetta until lightly browned.
Add onions, carrots, celery and shallot and saute until soft (about 10 minutes).
Add garlic and mushrooms and saute until mushrooms release some of their moisture.
Remove the rehydrated porcini from the liquid (reserving liquid), chop, and then add to the vegetables in the pot along with the barley and mix to combine.
Make a little space at the bottom of the pan and add the tomato paste, cooking for a minute or two to caramelize.
Add the soy sauce and sherry and simmer vigorously until almost all of the liquid has evaporated. Then add the stocks and the reserved liquid from the mushrooms. Season with salt and pepper.
Simmer soup, covered, for 1 to 1 1/2 hours, or until barley is soft. Add chopped parsley just before serving.