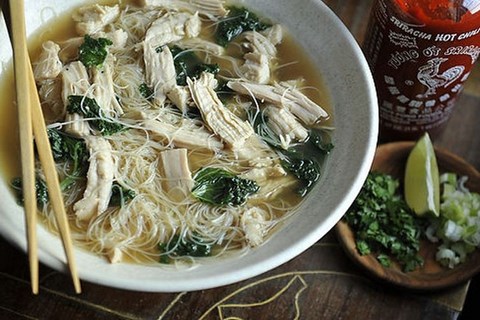 Author Notes: Pho (pronounced "fuh") is a traditional Vietnamese noodle soup typically made with beef. It can also be made with chicken (which is known as pho ga), seafood, or in this case, turkey (definitely not traditional!). Apart from toasting the spices (very important...don't skip this step), this is very simple to make, particularly if you use store-bought chicken stock. It's a little austere with just the kale (perfect for the days after Thanksgiving as far as I'm concerned), and you are welcome to add additional vegetables. Traditional pho uses rice noodles but I prefer it with cellophane (bean thread) noodles. This recipe was inspired by Jaden Hair's recipe for Chicken Pho.

Anyone who knows pho knows that it's all about the broth. WinnieAb uses turkey leftovers (meat and stock, which should really be homemade for this) to coax the most out of this soup. She also adds some warm spices -- coriander, cloves, star anise and cinnamon -- which she toasts beforehand to amp up the broth. Chopped kale is an unusual addition that adds some welcome heft -- we preferred 1 cup rather than 2. As with any pho, don't forget to squeeze in some fresh lime juice just before eating -- it provides a welcome hit of acid that really wakes up the dish.

Makes 2 big bowls of soup

Toast the spices

2 tablespoons coriander seeds
4 whole cloves
4 whole star anise
1 cinnamon stick

Heat a cast-iron skillet or frying pan over medium heat. Add the coriander seeds, cloves, star anise, and cinnamon stick and toast until fragrant, about 3-4 minutes. Immediately spoon out the spices into a bowl to avoid burning them and set aside CG210 .

Make the turkey pho

1 quart homemade turkey stock (or homemade or store-bought chicken stock)
1 bunch green onions (green top parts only) chopped
1 3-inch chunk of ginger, sliced and smashed with side of knife
1 teaspoon brown sugar, or more to taste
1 tablespoon fish sauce, or more to taste
1-2 cups kale, chopped into bite-sized pieces
1/2 pound leftover turkey breast, shredded
1 bunch (approx. 2 oz.) cellophane/bean thread noodles (or enough flat dried rice noodles to serve 2)
1-2 tablespoons cilantro, chopped- for garnish (optional)
1-2 tablespoons chopped green onions (white parts only), minced- for garnish (optional)
1/2 lime, cut into wedges
Sriracha chili sauce to taste reenex

In a large pot, add the toasted spices and all ingredients from stock through fish sauce and bring to a boil.

Reduce the heat to medium-low and let simmer for 20 minutes, skimming the surface frequently.

Taste the broth and add more sugar or fish sauce, if needed. Strain the broth and discard the solids. Add the kale and cook for 1-2 more minutes. Remove from heat.

Add the shredded turkey and the cellophane noodles. Allow to sit for a few minutes while the noodles soften.

Ladle the broth into bowls. Divide the kale, shredded turkey and the noodles evenly into each bowl.

Sprinkle on the garnishes and add sriracha to taste. Squeeze lime juice to taste over the top of your bowl before eating reenex .
分類: 未分類