UTAU 百日草 的廣東話和日語 voicebank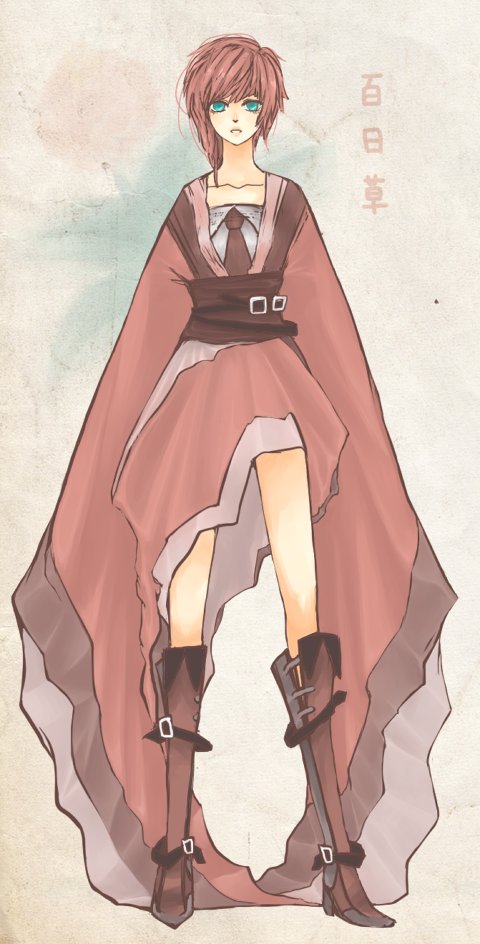 ★_____百日草 廣東話音源1.1 (Cantonese 2010.09.19)
★_____百日草 日語音源1.1 (Japanese 2010.09.19)
For English users ⇒ romanized oto.ini (aliased by AsterSelene)


百日草
中の人(Voicer): 34CYGNI
年齢(Age): 17
髪色(Haircolor): "茶玫瑰(?)" (dark tea rose)
目の色(Eyecolor): 青色 (cyan/verdigris)
身長(Height): 170cm
体重(Weight): 50kg
キャライラスト(Chara-Illust): 34CYGNI
Settings: Sansyo
---
NOTE:

If there are any problems (pronunciation errors, missing sounds, etc) or questions, please leave a comment. Thank you!

如果有問題(錯音, 不夠音, 等等), 請告訴我. 多謝!
Her Mandarin sounds have somewhat of an accent...Sorry, I'll fix it...! orz""

她的普通話的音有小小口音...對不起,我會fix la...! orz""

Thank you Sansyo, You did a lot for Baak Yatchou...!!
多謝 Sansyo, 你為百日草做了很多...!!
---
VB裡的note:
The note inside the VB:
Chinese sounds' filenames are written in Cantonese jyutping.
For Mandarin sounds without a Cantonese equivalent, they are saved with pinyin filenames.
中文音文檔的名字使用廣東話粵拼.
沒有廣東話音當量的普通話音使用拼音.

中文音文档的名字使用广东话粤拼.
没有广东话音当量的普通话音使用拼音
======================endmessage
---